Welcome to our  AAUW Kaua`i, Hawai`i Branch 
  AAUW:  Empowering Women since 1881 
Kaua`i Branch Annual Meeting with Speaker,
Maryanne Kusaka
Sat, June 30, 10 am at Memorial Hall, All Saints Church, Kapa`a
Please join us a bring a friend!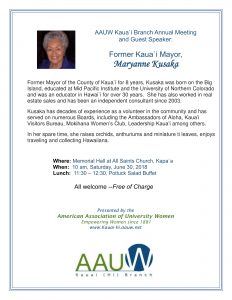 The more active you become in our local branch, the more rewarding your membership will be to YOU!  
2018 continues to bring women in the United States AND around the world new opportunities to stand up and stand strong for women's rights.
Please support  the American Association of University Women (AAUW)  by continuing to stand with integrity for ALL the RIGHTS women have supported for over 137 years.
Woman have fought to be recognized as FULL CITIZENS  with the RIGHT to:
Vote (1920)

Establish credit in our names (1974)

Earn Equal Pay for Equal Work (1963) (1974) (2009- Lilly Ledbetter Act)

End Sex Discrimination in Hiring (1967 (1972))

Full reproductive rights (1973)

Freedom to love whomever we choose to love (1974) (1998) (1999)

To Serve on a Jury (1975)

End of legal subordination of a wife to her husband  (1981)

Basic Educational Opportunities (Title IX:  1972–Patsy T. Mink Act)

Freedom from sexual assault and harassment (2013)
Vigilance to protect and enforce women's rights continue. Your membership and donations help AAUW in Washington to continue the challenge.